We now have 2 new hagstrom electrics. One is the HJ500-BK "Jimmy" which is a arch-top electric 2 humbuckers, gold hardware, ebony bridge and pickguard, and their requisite Resinator wood fingerboard, H-Expander Truss rod, and 18-1 di-cast machine heads. It also comes with a $170.00 custom fit hardshell case. The second is a Viking Rex-tone which is exactly like a regular viking but with a second 3 way switch which acts as a hi-mid cut, or a hi cut, giving the guitar a lot more tonal flexibility. The guitar it'self is a semi-hollow double cutaway electric, with 2 Hagstrom custom 58 humbuckers, H-Expander Truss Rod, Resinator wood fingerboard, and 18-1 gear ratio machine heads.
Both guitars play extremely well out of the box, and sound and look beautiful. For more info visit
http://hagstromguitars.eu/index.php?option=com_zoo&view=category&Itemid=4
The viking is a different colour than shown.
We also got in 2 vox amps. First the new TB35C1 Tony Bruno boutique 35watt tube amp with 1x12 speaker. There are too many features to list here, but if you want serious Vintage American tube voicing in a high quality extremely versatile package, definitely check this amp out. For more info
click here
to visit their website. Second is the new Vox AC15C2 tube amp, which has 2 12"celestion speakers, and is powered by 2x EL84 pentode tubes and 3x 12AX7 pre-amp tubes. It has a master volume, reverb and tremolo, and a 2 channel design with Vox's coveted tob boost channel delivering a great deal of tonal control. For more info
click here
to visit their website, or stop by the store to try out either of these incredible tube amps.
AC15C2
TB35C1
And Last but certainly not least, we got 2 SDC55 Vox solid body guitars. They are equipped with Vox's Coaxe pick-ups which have a single coil, P-90, and Humbucker in one. Each one has 3 individual coil taps, and all 3 positions on each are noiseless. It also has a regular 3-way switch to select between your bridge and neck pick-up. Like all Vox guitars, they also come with Vox's MaxConnect cast aluminum bridge, which has increased saddle travel, and is a stand alone bridge for maximum tone transfer. The body of the guitar is made from maple and mahogany and is carved in 3 dimensions, so the guitar is much more comfortable to sit or stand with than most, because you don't have to reach your forearm out as much over the body in order to reach the strings. We have them available in Black and Gold, and we still have the single cutaway in blonde. All 3 come with a heavy duty vox padded gig bag.
Click Here
for more info from their website, and of course you can visit us in store to try them out for yourself.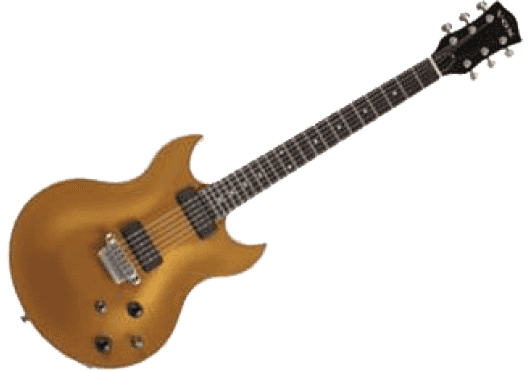 And these pictures really don't due justice to the beauty of these guitars in my mind.