We now are officially dealers of AKG headphones, and I have a selection on the way. AKG makes extremely high quality headphones and ear buds, and is a continuing innovator in the music technology field. They make headphones with active noise cancellation that eliminates up to 90% of background noise, blue tooth operated headsets that are rechargeable, and can play music passively once the batteries are dead, WiFi headphones, the only earbuds with true 3 way speaker technology and much more. The first shipment should be showing up in the next week or so.
We now also carry Vitoos products from Hong Kong. They specialize in guitar effects pedals, and power systems. The only thing I have in stock so far is a VP4 power bank, which is the only rechargeable battery pack on the planet that can charge both your cell phone and your effects pedals. It can power up to 2 pedals, and a phone, and is compatible with most common phones like Samsung, Nokia, Iphone, and others.
Hagstrom Ultra-swede in blue chip finish
Why they call it Blue Chip, I don't really know, but the blue flamed maple top on this guitar looks fantastic. It's the second most expensive ultra-swede coming in at a hundred more than the standard black version, but that extra hundred bucks is worth it for the sheer wow factor when you look at it. Aside from the looks, it's a standard Hagstrom Ultra-swede, with all the functions, features, and playability that make them great. The Coil tap switch gives you great tonal diversity, and the resinator wood fingerboard, and H-Expander Truss rod combo give you an incredible playing surface. All around this is a fantastic guitar... the fact you pay well under 600 for it is just a complete bonus!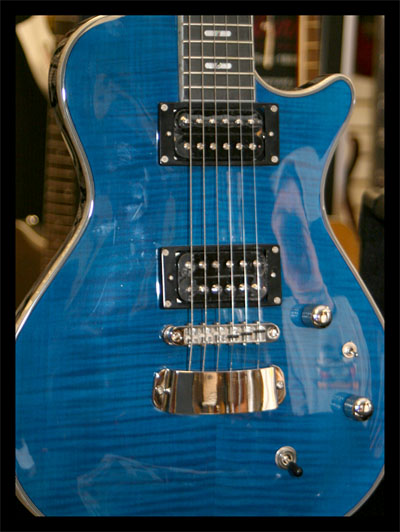 Hagstrom Tremar Super swede with 3 P-90 pick-ups.
As the name suggests, this is a Super swede, with a Hagstrom Tremar Tremolo system, and 3 of Hagstroms incredible "Spiced" P-90 pick-ups. The guitar is equipped with all the standard Hagstrom kit, as well as a 6-way rotary switch to select between your pick-ups. This gives you more tonal versatility than most guitars out there. The Super Swedes have a slightly longer scale than their other guitars which gives a generally deeper tone to the guitar, and makes it much better at handling drop tunings.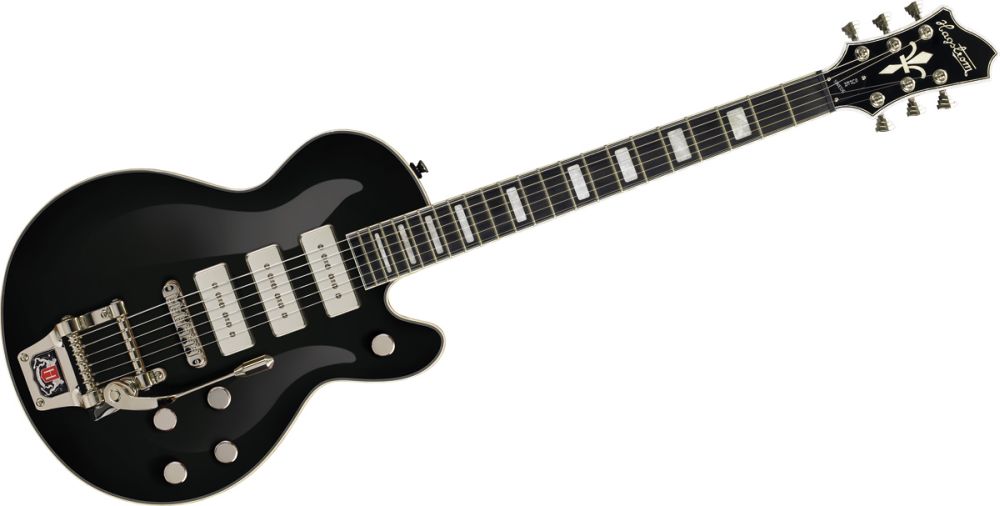 As some of you may know, we are now official dealers of Kala Brand ukuleles, and I finally got in a large shipment of them. here are a few pictures on what we have in stock.
This volume pedal is a completely passive effect that wont require a power supply or batteries. It's built like a tank to withstand anything you can throw at it at home or on the road. The Pedal allows for extremely smooth volume swells without affecting your signal, and is a great pedal to add to any pedalboard. The ability to turn off your volume very quickly, turn it down to clean it up, or up to crank it during a solo is extremely valuable, as well as using it for the effect during said solo. Because of it's simplicity, it's not overly expensive either, so really it's all around a great purchase if you are trying to build a pedalboard.
Alabama 6-string Banjo aka a Guitjo or Bantar
Whatever you want to call it, this is essentially a banjo for those who play guitar, want to get a banjo sound, and don't want to learn a whole new instrument. It's tuned exactly like a guitar, so any guitar player can pick it up and instantly play a banjo. To be honest, it doesn't sound as good as a real banjo though, simply because the scale is shorter making it sound a little (for lack of a better word) floppy. The punch that banjos have isn't quite all there when your playing the lower strings. But for the convenience of not having to learn an entirely new instrument, it may be a sacrifice worth making.

These are 2 brand new acoustic amplifiers from Vox. Both are smaller versions of the Original AGA70 and AGA150, and both are great. The AGA30 is simply a smaller version, but with a 6.5 inch speaker, a 2 channel design, a 30watt power amp, and a reverb and chorus effect, it's everything you need in an acoustic amp, aside from an overabundance of volume. The AGA4-AT however is a slightly different story. though it's modeled after the AGA series amps aesthetically, this is more similar to the AC4TV amps, because inside is a 4 watt tube power amp. Though 4 watts doesn't seem like much, especially compared to the 30 of the AGA30, don't let that fool you. The Tube power amp in this runs extremely clean giving you a very warm natural acoustic sound, and the output volume is about equal to that of the AGA30. It loses the one channel and the mic input, as well as a few knobs, but it makes up for that in pure warm all tube tone that brings your guitar to life.