As many of you may know, we now carry Bedell and Breedlove acoustic guitars, and over the past few weeks we've gotten in a lot of new models of these, as well as some other brands. So here are some short reviews on these new instruments
Bedell MB-18-G
This is one of their Performance series acoustic, which are built offshore for cost saving reasons, but still set-up and QC'd in the Bedell factory in Bend Oregon USA. The performance series is made from all solid woods with a Alaskan sitka spruce top and African Sapele back and sides. This wood combination along with the slightly smaller orchestra body size gives it a smooth Mid-range oriented tone, with no overpowering bass, or harsh trebles. The volume and clarity of this series is quite phenomenal for the price, as the all solid wood construction allows for a very energetic response, with loads of sustain, and lots of sweet overtones. They all have ebony bridges and fingerboards, with gold Grover machine heads, and Bone nuts and saddles. These features really aid in the look, feel, durability and tone of the instrument, so from an over all quality perspective, the performance series is well worth the extra costs compared to the Discovery, Heritage, and Encore series, especially with the beautiful deluxe hardshell case with a Hygrometer included. I like this series so much in fact, I bought myself one of the acoustic electric models a few weeks ago, and I love it.
Now this picture is of the dreadnaught version as they don't have the Orchestra model on their website. But
here's the link
to this model on the Bedell website. Also keep in mind our prices are a fair bit lower than the ones on their website.
Bedell BDDCE-18-M
This is one of the Discovery series models I have talked about before as being the best sounding guitars for the money that I know of, and that still stands. This model has a dreadnaught body, with a solid Sitka spruce top, and sapele back and sides, as well as a Fishman ISYSt pick-up system and tuner. The discovery series has essentially the same quality of build as the more expensive Heritage and Encore series, but at a much lower price due to cuts in some of the less important features. To save costs this guitar has a satin finish instead of high gloss, 5-ply plastic binding instead of wood binding, generic di-cast machine heads instead of name brand, simpler rosette inlays, a less expensive pick-up, and a more modest gig bag. But they never had to cut down on how well the guitar plays, how incredible it sounds, or how well built it is. This means in the stuff that really matters it is as nice as nearly any $1000.00 guitar out there, but costs 1/4 as much. As I've said before, the Hagstroms are still nicer all round, but at a few hundred dollars extra, with an inferior sound or equivalent sound quality, these Bedell's certainly are giving them a run for their money.
Here again is a link to this model on their site, and keep in mind we are about 25% less expensive than the site's prices.
Parker PDF80FRFTSB
The PDF radial neck joint series from Parker offers a lot better value for money than the US built models, simply from the fact that they cost less than half as much or less than the US made models. There are of course some very good reasons to buy the US made ones if you can afford one (ie. nicer features, better hardware, better pick-ups, nicer cases, and some higher quality control standard), but on a budget the PDF series is among the top of it's class price point and feature wise. This model has the Floyd Rose bridge system, which I personally despise, as they are a handful to restring, set up, or keep in tune. But for those wanting to ability to bend the strings up or down in a very aggressive manner for effects like dive bombs, or just a nice tremolo effect, it does it's job quite well. The pick-ups in the PDF80 are the Duncan USM humbuckers, which have a lot of output, and a fairly aggressive edge that works well for heavy rock, grunge and metal, yet with a push/pull coil tap can also clean up nicely, and doesn't sound harsh like some hot pick-ups will. It's a well chosen pick-up for these guitars as they looks and feel of Parkers also bridge the gap between those genres. The neck on any Parker I've played just blows me away with how fast and easy they are to play. With an unfinished neck you have no resistance when sliding up or down, you get a medium sized neck width so you don't need tiny fingers to get between the strings, yet narrow enough for short quick movements. The neck is also fairly thin putting less pressure on your thumb, and allowing for better finger positioning, and jumbo frets which give it a much lighter feel. Everything about the set up on these guitars makes them easy to play, right down to the ergonomic body shape, which puts the guitar in a very comfortable position, and weighs only 5 lbs. I don't know of anything I'd rather play in this price range than a parker, unless I wanted something for some specific style of music that the Parker can't handle as well.
TC electronics
We have not yet received our first every TC electronics order as of the date of this post (May 20, 2013), but by the end of may it should be here. TC is a music electronics company that covers a wide array of gear such as guitar effects pedals, vocal effects pedals, Bass amps, rackmount effects, and pro audio production gear. They have been working in the industry for nearly 40 years, developing professional grade products for nearly all audio fields. One of the products I am most excited about from them is the Ditto looper, which is a looper pedal designed specifically for guitarist, with a single switch, and a single knob. This simplicity of it allows for a very organic and natural looping experience, without needing to adjust a lot of knobs or anything. Simply set your volume level and go. It's also extremely small, fitting on your pedal board better than almost any other stomp box, whereas, many other loopers are 3-10 times the size.
Click on the pictures to link to the TC webpage for that product.
Sennheiser e835
This is one of their mid range dynamic vocal mics, ideal for live stage use, with excellent feedback rejection, high output, and great durability. Somewhat similar to an SM58 from Shure, this is a workhorse that will handle whatever you throw at it. It's got a somewhat more pronounced high end than an SM58 making it even better for female vocalists who want to maintain their presence in the higher registers, and can pull of instrument miking in live or studio situations without too much trouble. (Though a dedicated mic would be more ideal for these situations when financially feasible).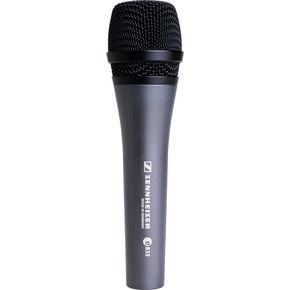 Breedlove Passport C200/SMe-T Travel guitar
This is Breedlove's answer to the current interest in travel acoustics, such as the Baby Taylor. With a solid Sitka Spruce top, and mahogany back and sides, assembled with Breedloves unique techniques and quality craftsmanship, this is easily one of the nicest travel guitars I've encountered. Though it is similar to the Baby Taylor in many ways, with a 22.75" scale length, a solid top, Satin finish and both being made by American brands in offshore factories; there are several things that bring this above and beyond the Baby Taylor. First off, the body is slightly differently shaped, modeled after the Concert Breedloves, meaning it has a narrower waist for easier handling, and a nice round lower bout, which fills out the low end nicely for such a small guitar. Second, it is equipped with the Breedlove VTC pick-up system and tuner, which is one of the nicer systems around. The screen of the tuner is backlit, and very easy to read, and the pick-up itself sounds quite good, and gives you a 2-band EQ and volume control. This feature alone well justifies the slightly higher price of the Breedlove, (as long as you actually want a pick-up system). And thirdly, the build on the Breedlove is better in some ways, such as the fact it is a proper neck joint, not relying on screws in the fingerboard holding it together, proper binding on the top, back and fingerboard, and personally I think it looks nicer as well. Every Breedlove Passport and Atlas series guitar despite being built in their Korean factory, is set up, inspected, and quality controlled in the Breedlove Factory in Bend Oregon USA. This level of care certainly makes the instrument more of a pleasure to play, as well as ensures that it is flawlessly built, for a long lasting, brilliant sounding instrument. It also comes with a nice gig bag, so traveling with it is a breeze, and with the pick-up and tuner built in, it is ready for any situation you might encounter in your travels.