Here's another list of new items we have in stock, with some descriptions of each.
Hagstrom HB8 Bass
We got in something I've been excited to try for over a year. It's the Hagstrom HB-8, which is an 8-string bass which is fairly unique in the market, having the same tuning as a 4-string bass, but having each string with a second string next to it, tuned an octave higher. It's basically like having a 12-string guitar version of a Bass. The tone of it is unlike anything I've played, and it's quite fantastic. It wont be as versatile as a standard bass obviously, but as something unique to really open up some new tonal horizons, it is certainly one of my favorite new basses. The play-ability is surprisingly good considering the fact there are twice as many strings to press down. But partly due to the awesome necks on all Hagstroms, and partly due to the short scale neck, it's as easy to play as anything anything. When played with a pick it has a sweet, thick tone with loads of luscious overtones. When played finger style it gets a little muddy, but it works well for a mellow, jazzy, melodic tone.
Come check it out as it is 10% off all month along with everything else from Hagstrom. You will also get 40% off any accessories you'd like to purchase with it.
Square Reader
Have you ever had a garage sale, and had lost customers because you couldn't accept credit cards? Wished you could offer credit cards as a payment method when selling on Kijiji? Run a small business making deliveries and want to be able to accept card payments at the customers door? Well there is now as solution for this.
We have in stock the new Square Reader, mobile card reader, which allows you to accept credit or debit cards on your mobile phone or tablet anywhere you have an internet connection (counting 3G). The reader costs a mere $10.00 and upon activation, they will deposit $10.00 in your account, making it essentially free. There are no monthly costs, registration costs, or other hidden fees. There is just a small 2.75% charge every time you use it. The money will deposit into your bank the next day, and there are no limits the number or value of the transaction. For any company with a delivery service, or any out of office transactions, this is a must have. There's really no reason not to get one as it is free, and there will surely be times when you'd wish you had one around.
AKG isolation headphones
We got in a large order of AKG headphones and ear buds, and included in that order was the K490NC active noise canceling headphones. These are designed with a microphone system outside that will detect incoming noise, and send out an opposite signal to cancel it. So no matter what environment you are in, your music will sound crystal clear, and you wont have to blast your eardrums out to hear over everything else. They are USB rechargeable so you don't have to swap out batteries all the time, and if the battery goes dead, there will be no delay or change in your sound... you just simply wont have the noise cancelling any more. The headphones themselves are exceptionally high quality, with great tone and construction. The 3D axis folding mechanism makes them easily portable, and it comes with a convenient carrying case.
Nude Audio portable speakers
This is another brand new line for us... and almost a brand new line entirely, which just a few weeks ago began coming into the country. The Move line from Nude Audio is series of high quality, portable music speakers. They are fairly inexpensive, and are designed to give you access to great sounding audio anywhere. They all have lithium ion batteries that are USB rechargeable, and will last up to 8 hours on a charge. The least expensive model (the Move S Wired) has a headphone line coming out the back to connect to your iPod, tablet, laptop, or whatever, making it somewhat inconvenient. However, being $20.00 less than the next model with blue tooth may make it worth it. All 3 models after the Move S wired have Bluetooth so you can use any Bluetooth device with it wirelessly. They come in an Small, medium, and large size, in 2 different colour schemes. Also as you move to the higher end ones you get the ability to use an AUX cable to connect them together for extra volume.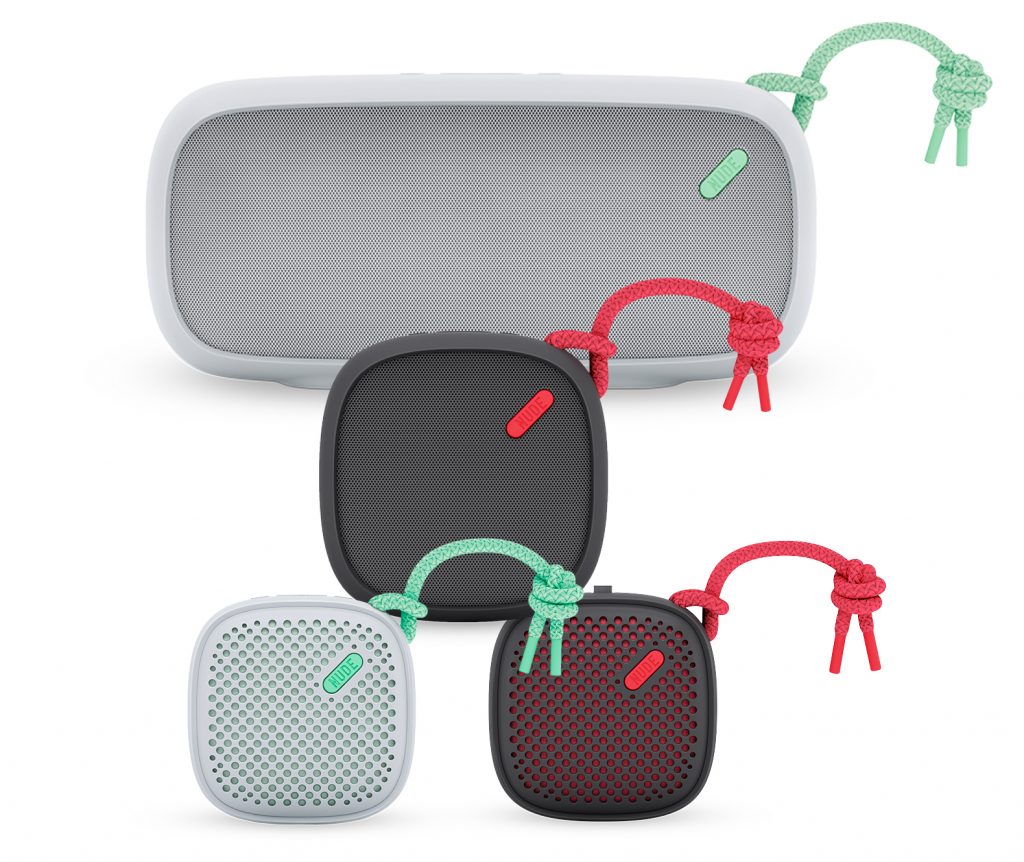 Hagstrom Viking P
This is the newest line of Viking Semi-hollow electrics from Hagstrom with 2 P-90 pick-ups instead of the typical HJ50 Humbuckers. The Custom P-50 pick-ups have a fantastic crunch tone, with a fairly punchy low end, and are perfect for a lot of lead and rhythm styles. The guitar is packed with Hagstroms proprietary features such as the H-Expander Truss Rod, Resinator wood fingerboard, 18-1 die-cast machine heads, and a long travel tailpiece with tune-o-matic bridge. All in all, it's a fantastic guitar to play, with sharp looks, superb quality, amazing tone, and a shockingly affordable price tag; just like every other Hagstrom out there! Once again, this is also 10% off all month long, with a 40% discount for extra accessories. Don't miss out.
The one we have in stock is in a transparent red finish unlike the picture.
Hofner Shorty Bass and guitars
We haven't had these in for a while, and they are one of my favorite travel guitar solutions, partly because they are a just nice to play and listen too; but also because they are so simple and inexpensive, which is always nice. The shorty bass has a 30" scale length (which is a standard short scale bass, like almost everything from Hofner), while the guitars have a full 24.7" scale length. Yet because of their body design they are still extremely portable. To me it's very important that they didn't have to shrink the scales down to make these, as that will destroy the tone of the instrument, and make it weird to play, but with these it's perfect. The only thing these are missing is a bit of mass in the bodies, a bit of versatility (with only 1 pick-up), and a few hundred bucks off the price tag. They also come with nice gig bags, perfect for bringing these with you wherever like takes you.
Hofner Ignition Bass
This is Hofner's least expensive violin bass, aka McCartney bass, aka Beatles bass. With a 30" scale length, and a very small hollow body, it's one of the more portable and easy to handle basses around. Also, despite being the least expensive model of the violin bass, it still have amazing sound, with a ton of thick low end, and a great punchy tone. It doesn't have the zero fret like any of the German made ones will have, and it's not hand crafted in Germany, but at 1/4 to 1/10th the price of a German made model, it's really very good value that they offer. It comes with a really nice custom fit hard-shell case, and is super fun to play. Certainly worth checking out if you're into bass.
Hofner classicals
We got in 9 new German, hand made classicals, so I wont go into details on each one here. But if I had to sum up the Hofner classicals in a word, it would be ASTONISHING! regardless of price point, or anything like that, these guitars are simply some of the nicest classical guitars I know of. They all look completely gorgeous, with stunning tone woods, and understated, yet elegant adornments. Sound wise, they vary quite widely between the different wood types, but they always deliver on tone. If you want something sharp, focused, and projecting, go with the HF18. For something more mellow and balanced, go for the HF15 or HZ23. For a deep, rich, room filling tone, there's the HZ28 and HZ27. For a guitar that gives you the best of both the spruce and cedar topped worlds, there's the unique HF14. No matter what sound, look, or feel you are going for, Hofner pretty much has you covered. The best part of all of this though, is that they are all under $1200.00. For a hand crafted, German built guitar, made from some of the finest tone woods around, and looks and tone that puts many Spanish guitars twice the price to shame, that's just unheard of.
Hofner HA-JC07
It's been over 2 years since we could get these guitars, and boy did I miss them! The Hofner acoustics have always been very attractive to me. Partly the outstanding looks, but mostly the outstanding sound. With this model having a tone of low end and clarity due to the rosewood/spruce wood combination, and because of the Jumbo body size. The guitar is nice to play as well, and despite being a big bodied guitar, isn't really too much to handle. The B-Band A3T pick-up system and tuner really helps top off the guitar... it would be nice to have an option without a pick-up though I suppose, but these days it's a pretty invaluable tool for most musicians. If you've never played a Hofner acoustic (and it's likely you never have), stop by and try one out one of these days.
Vox Tone Garage V8 Distortion
This is another one of the tube driven pedals from Vox's new Tone Garage series. A Tube distortion is sort of a strange creature, in that it ends up reacting a little more like an overdrive in certain situations due the to character of the tube. Running it through my Vox AC4 sounded amazing as it really uses the tube well, and works well the other tubes, driving everything a little harder, getting that vox crunch to come through fairly strong. With the distortion cranked, the interplay between the two tube pre-amps gave it almost a fuzz sort of feel, which is really quite cool. and when you shift the mids, you can really belt out some heavy tunes. Through a solid state amp is where this thing really shines however, as the tube ads in a lot of warmth, depth, and character that solid state amps tend to lack. The distortion itself, when run on a really clean channel is extremely crisp. There's not a lot of muddiness, or cloudiness to the tone. and that's what I mean when I say it acts somewhat like an overdrive. You get the cutting, abrasive tone, but without all the overpowering thickness. The Pedal is a little on the pricey side for a distortion pedal, but it offers a lot of versatility that you can't get from a lot of pedals, as well as that tube pre-amp, which really does add a lot... especially if you're running a solid state amp.