Because summers in a guitar store are generally fairly slow, I've been doing my best to get into some particularly exciting new products to help keep things rolling. From some amazing new acoustic guitars, some very useful new electronics, to some awesome new bass and electric guitars, there's a lot to check out. Here are a few of the most unique and exciting additions to our inventory. But it's always growing and changing, so be sure to check in regularly to see all our new products.
Breedlove Custom Dreadnought D-RME-CST
We've received another Breedlove Custom model recently. This one is also a one of a kind, made with a redwood top, and mahogany back and sides, both selected from the Master Craft tone woods piles, which are reserved for custom and masterclass guitars. This ensures that the woods will be very strong, with consistent grains, are well aged for greater durability and fuller tone, and will look much more aesthetically pleasing than other inferior cuts of wood.
The dreadnought body style, combined with the very harmonically rich redwood and mahogany, makes for an incredibly loud, deep, and powerful tone, that I don't think I've ever experienced before. Redwoods incredible depth, seems to perfectly fill in the holes in the typical dreadnought tone, so that across the spectrum, you get a very tonally balanced instrument. This makes it great for a wide variety of applications, as you get the depth and substance necessary for flat picking and fingerstyle playing, as well as the powerful low end that works so well with country music. The unique and stunning looks of the redwood also make this guitar something to behold. With the dark reddish tint in the very dark and light contrasted grains, it really jumps out at you like very few other woods can. It is also equipped with an L.R. Baggs Element Active, VTC pick-up system, for awesome live tone, Gotoh gold machine heads with ebony buttons, and a bone nut and saddle.
The quality craftsmanship poured into this instrument is evident in every detail, from how well every seem and joint meet up, to the precision of the inlay work, to the feel of the fretboard. So if you are looking for some of the best guitars available, you will want to try out this guitar, as well as our other Breedlove Custom and standard models. If you're willing to wait a few months to get one, you can also custom order your own model, with whichever woods, hardware, electronics, inlays, body style, or features you would like. For details on this, please call James at 780-278-3679.
For general information on Breedlove guitars, visit
http://breedlovemusic.com/
Vox Amplug I/O
There are many options available for getting your analog guitar signal into a digital signal for connecting to your computer. Many of these however are fairly costly, bulky, have extraneous features that you may not need, or are not very high quality. The Vox Amplug I/O is one of the newest options on the market, and it doesn't have these issues. It comes in well under $100.00, so cost isn't an issues. It is about the size of a humbucker pick-up, so it is not at all bulky. The only feature aside from the USB interface is a tuner, which can be used without being connected through USB. It runs at 44.1 kHz, at a 24 bit resolution, so your audio quality is not compromised. It is also compatible with ASIO applications, which can help eliminate any latency issues when monitoring it live as well.
On top of this, the amplug comes with Vox's Jamvox III software, which gives you loads of amp sounds, and high quality digital effects when using your amplug I/O through the computer. It also gives you the ability to extract the guitar from your favourite songs, allowing you to jam along with them in place of the guitarist.
Follow this link for info on the Amplug I/O.
http://www.voxamps.com/amPlugIO
Follow this link for info on the Jamvox III Software.
http://www.voxamps.com/jamvox

Breedlove DCD21
The Breedlove Discovery Dreadnought is the least expensive instrument in Breedlove's exquisite line-up. But despite the reasonable price tag, the guitar doesn't disappoint, or bring any shame to Breedlove's blemish free name. With beautifully tight grained solid spruce top, mahogany back and sides, Breedlove open gear machine heads, and Breedlove's unique take on a dreadnought body shape; the DCD21 is familiar, yet unique. When I play it, I marvel at it's projection, and depth when compared to other similar guitars. The Best selling guitar in the world is the D10S from Washburn, and it's made from the same types of wood, in the same body style, and falls into a similar price range. Yet the Breedlove has a certain roundness to the tone, that many dreadnought acoustics have trouble pulling off, while still maintaining that deep rumble, and punchy attack that makes them so desirable. It is fitted with a Graphtech Tusq nut and saddle, and has both strap buttons installed, which is very convenient. It also has a Breedlove padded gig bag included with it, so with a price tag under $500.00 it offers good value as well. If you've never played a Breedlove before due to their Price range, I think you will be very pleasantly surprised with the new Discovery Series.
http://breedlovemusic.com/guitars/discovery-series/dreadnought
Warwick Rockbass Alien 5-string Deluxe
We have finally purchased our first aptly named, Warwick Alien acoustic bass. This is a 5-string deluxe version, which has a spruce top, Bubinga back and sides, a Fishman Presys+ pick-up system, and Warwick's strap lock system and Just-A-Nut III. It has a very large body, offering up loads of volume, and a very powerful low end, which is very important, since it has that low-B string. Despite this large body, and full scale neck, it is still fairly comfortable to play. though if you are a small person, there are some other acoustic basses that are much more suited to those with shorter limbs. The Washburn AB5K, or the Sigma acoustic basses would be excellent options to consider in this case. If size isn't an issue however, and you really want a bass with a lot of volume, a deep projecting tone, and incredibly unique looks; the Warwick Alien is a bass you will want to try out.
http://www.warwickbass.com/en/Warwick---Products--Instruments--RockBass--Alien-Acoustic--Alien-Deluxe--5-string--Pictures.html
Warwick Rockbass 5-string Streamer Stage I
I have a fair bit of experience with this bass, as the bass player in my band uses the exact same model, so I can vouch for it's quality. Being made by Warwick is a pretty sure sign that it will be loaded with features, will be made with high quality materials, and will sound and play well. This one does not disappoint at all. It is the least expensive Neck Through model in Warwick's line up, with a 3-ply maple neck, an Alder Body, and rosewood fingerboard. It is equipped with two MEC Jazz pick-ups, active electronics, Warwick's 3D Bridge and Just-A-Nut III, along with Warwick's strap lock system. With the pick-ups, and bridge mounted directly to the neck as it passes through the body, there is a sharper attack, and longer sustain than with many bolt on neck models. You also have greater stability, requiring fewer set-ups, and potential play-ability issues. The ergonomically curved body makes the bass very comfortable to sit or stand with, and makes it a little sharper looking than the flatter bodies of the Streamer standard models. The features, care, and precision engineering evident in the bass culminates in an instrument that will stand up to the rigors of the road, or satisfy the demands of the studio.
http://www.warwickbass.com/en/Warwick---Products--Instruments--RockBass--Streamer--Streamer-NT-I--5-string--Pictures.html
Washburn B11K Banjo
The Washburn B-11 Banjo is one of Washburn's mid-priced options. This makes it a great buy for anyone serious about learning, or as an upgrade from a student model. You aren't spending loads of money on fancy looks, inlays, or woods, but are instead paying for some very important features, quality, and accessories. The banjo has die cast tuning pegs, a geared 5-string tuning peg, a metal and mahogany mounting ring, with a mahogany resonator and mahogany neck. It also has a Remo Weatherking banjo head, so all around it has great quality parts and materials, so it sounds and plays very good. It comes with a beautiful deluxe, arched top hardshell banjo case as well, to it's ready for the road.
For more details on the B11K banjo follow this link.
http://www.washburn.com/products/bluegrass/banjo/B11K.html
We currently have two of them in stock with minor finish blemishes that will be between 20-40% off our regular prices, and considering how well priced these already are, there may not be a better opportunity to get into one of these for a while. There are also a few of the B9 and B8K banjo packs in stock from the same B-stock clearance. So if you are looking to spend $200-$300 for a $400-$500 banjo that has nothing more than a few scratches, a blurry patch in the finish, or sometimes nothing more than an opened box as far as I can tell, then come check those out before they are gone.
We do have blemish free instruments in stock too, if you're not concerned about the money, and would rather have one that is in perfect shape.
Hagstrom Swede Natural Mahogany Gloss
Hagstrom's Swede models use a 24.75" scale neck, offering an easier playing experience, and a slightly mellower tone compared to guitars with the 25.5" scale necks. The Swede utilizes Hagstrom's Custom 58 humbuckers, which offer a full tone, with a slightly mellower edge than most of their other pick-ups. It is also equipped with Hagstrom's 3-way filter switch, a 3-way pick-up selector, and a 2-volume 2-tone control set-up. This makes it quite versatile, and allows the guitar to have a much deeper, thicker tone than models without the filter switch.
As with all hagstrom electrics, you get Hagstrom's proprietary technologies. This includes their H-Expander Truss rod, Resinatorwood fingerboard, 18-1 gear ratio custom machine heads, and a full contact stop tail with tune-o-matic bridge. It also uses Graphtech's Black Tusq material for the nut, and is made with an all mahogany body, which also contributes to the deep, powerful tone of the instrument.
All our hagstrom electric and bass guitars are 10% off until the end of June, and we are offering 80% off any case you purchase with it. So if you're interested in this guitar, or anything else from Hagstrom, now is a great time to come check them out.
Korg Tuners
Korg has recently released a few new clip on tuners. There are more than just the ones noted here, so you can view all of their models by visiting this link.
http://www.korg.com/us/products/tuners/
On top of all of their fantastic new tuners, Korg Canada wants to ensure that anyone who purchases their tuners will enjoy them for a long time. So they are willing to stand behind their tuners for 3 years from the purchase of it, and will replace it free of charge should anything malfunction or break in that time. Just return the tuner to your original retailer for a free replacement. (This may not apply outside of Canadian dealers, so be sure to ask before purchase if you are concerned).
Pitch Hawk G2
The G2 is simply a new version of the Pitchhawk G, now with a very easy to read, multi-colour display. As with all Korg tuners, it is extremely accurate, very responsive, and well built. It has a 10Hz adjustment range (435-445), 5 capo/flat tuning modes, both for guitar and bass. It also has an overwind warning for the high e-string, which makes it great for beginners, or those restringing guitars who don't want to go past the correct octave for the high E-string.
http://www.korg.com/us/products/tuners/pitchhawk_g2/

Sledgehammer
The Sledgehammer has the same multi-colour display as the Pitchhawk G2, but has extremely convenient shuttle switches on each end. This makes it much easier to operate with one hand, and avoids the usual 'press and hold' style switching on most tuners. It has an auto off power saving function, with a memory back-up so your settings remain the same. It also has the same overwind warning for the high E-string like the G2. The design of the Sledgehammer series allows for complete mobility of the head, which makes it ideal for oddly shaped headstocks, left handed guitar players, or those who prefer the tuner to hide away behind the headstock.
http://www.korg.com/us/products/tuners/sledgehammer/
Sledgehammer Pro
The Pro version uses the same shuttle switches as the regular Sledgehammer, but has a 3D display for easy viewing at any angle. It also has a few unique functions including a strobe tuning mode, a super accurate sensitivity of +/- 0.1cents. The display looks amazing, and the ability to see it clearly at nearly any angle makes it incredibly nice to use in a variety of environments.
http://www.korg.com/us/products/tuners/sledgehammer_pro/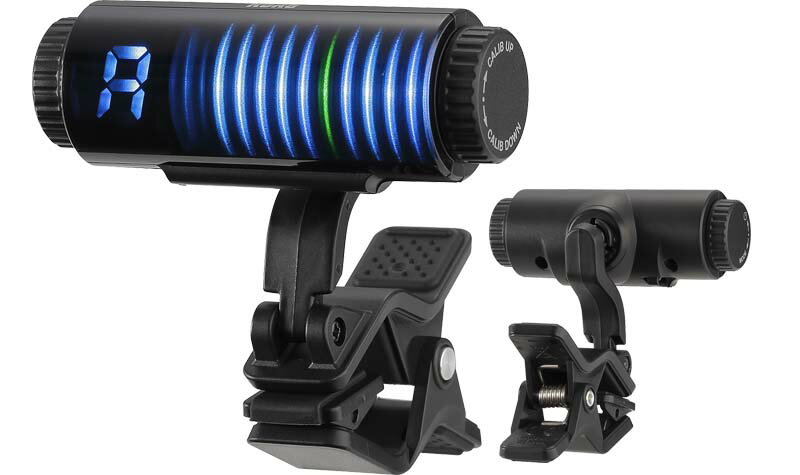 Magnetune
This is an entirely new concept in tuners, since it is not a microphone, a plug in, or a clip on tuner. Instead it uses a powerful magnet to hang onto the machine heads, or whatever other metal surface you may have on your guitar. The magnet holds extremely well (with the exception of machine heads with plastic casings), and tunes very accurately. Without a bulky clip mechanism, the tuner is much more portable than its clip on, or microphone counterparts. Plus it has far fewer pieces that could potentially break. One of the most frustrating things with clip on tuners, is when the clip, the arm, or the joints break, leaving you with a perfectly working, yet perfectly useless tuner. The tuners outer ring with the magnet can rotate 360 degrees, so you can always get a correct orientation of the screen. The only downside of this tuner is its simplicity, since it has no calibration, flat/capo functions, or a chromatic function. It's only use will be as a guitar tuner for standard tuning at concert pitch (which is by far the most common, yet still somewhat limiting).
http://www.korg.com/us/products/tuners/magnetune/
Dolcetto
The Dolcetto has the same display and general features as the regular Pitch Hawk. However, it has a much wider clip, with a unique rubber grip that makes it ideal for a much wider range of instruments. It can clip onto a violin, brass instruments, classical guitars, and other oversized or oddly shaped surfaces. It has a wide calibration range, an audible metronome built in (which I've never seen on a clip-on tuner before), and has auto power off and memory back-up functions like most Korg tuners.
http://www.korg.com/us/products/tuners/dolcetto/
Rim Pitch
The Rim Pitch is Korg's only tuner dedicated entirely to the acoustic guitar. Structured to fin snugly inside the bottom of your soundhole, and out of sight of your audience, the Rim Pitch is ideal for discrete tuning. It has 5 very visible indicator lights, making it great for dark stages. The only downside, (as with the Magnetune), is that it is very simple, and wont work for alternate tunings, or anything outside of concert pitch. If you only ever play in standard tuning anyway however, this may be a great way to go.
http://www.korg.com/us/products/tuners/rimpitch/
Bedell Parlor OH-18-VS
By some miracle, our Bedell distributor had one more Bedell OH-18-VS Parlor acoustic remaining, despite the model being discontinued a few years ago, so I immediately took it off their hands. It has a beautiful full gloss vintage burst finish on top of solid spruce and solid mahogany back and sides. The bridge, bridge pins, fingerboard, and headstock cap are all ebony, the nut and saddle are bone, and it is fitted with Gold Grover machine heads. The 5-ply wood binding, wood fret dot markers, and rosette inlay, all contribute to a very vintage and high quality look and feel with this guitar. It is a 12th fret bound model, so you don't get as much range on the fretboard, but you do get a fuller sound, and a more compact feel. The 25" scale also contributes to the comfortable play-ability, while giving it a slightly mellower tone. One of the things I dislike about most parlor acoustics, is their slotted headstocks with the open geared machine heads. Aside from not looking as good (in my opinion), they are a bigger hassle to restring, so I love this guitar even more due to it's modern style headstock, with die-cast machine heads. It's been a while since I've played a Parlor model that really made me instantly fall in love with it (my sister's Levinson Blade acoustic was probably the last), but the comfort, and style, and rich tone of this guitar is just breath taking.
Because this is a discontinued model, it wont be on their website. But you can visit their site for more info on the brand by following this link:
http://bedellguitars.com/guitars/series